More Views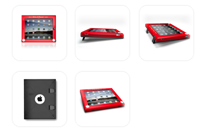 Quick Overview
Some things were just made to go together. Now, the Worlds Favorite Drawing Toy®, the Etch A Sketch®, and the world's most revolutionary product, the iPad, have come together in the form of Headcase's officially licensed Etch A Sketch® iPad case. Celebrate Etch A Sketch®'s 50th anniversary and be the coolest kid in the conference room!
But the Etch A Sketch® iPad case is more than just cool! It is specially designed to protect and enhance your iPad. Made of impact resistant plastic, the Etch A Sketch® iPad case will help protect your iPad. Rubber feet and a felt backing gently cradle your iPad inside the Etch A Sketch® case. Strategically placed windows throughout the Etch A Sketch® iPad case allow for easy use of all your iPad switches, ports, and buttons. And retractable kick stands allow you to either lay your iPad flat, or angle it for easy use of the iPad keyboard.
Yes! Your Etch A Sketch® iPad case is incredibly functional and durable, especially when compared to other iPad cases currently available. But who are we kidding? Buy it because it is fun. Hey, with over 150 million Etch a Sketches sold, the whole world will recognize and love this iPad case.