More Views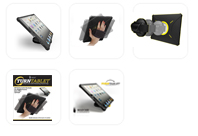 Quick Overview
The TurnTablet™ is the most versatile and durable iPad Case available today!
360 degree rotation - perfect for data collection and presentations
The TurnTablet clicks into a secure position every 45 degrees - offering multiple
viewing options.
The Comfort Grip Handle provides a ergonomic and secure way to hold your
iPad with one hand
The Handle is removable at the touch of a button.
A built-in prop stand is contained within the Handle, no extra parts to carry.
Adjustable hand strap securely holds the iPad in place
Co-molded using impact resistant ABS plastic and rubber for superior protection
Designed for daily extreme use, the TurnTablet is lightweight and rugged.